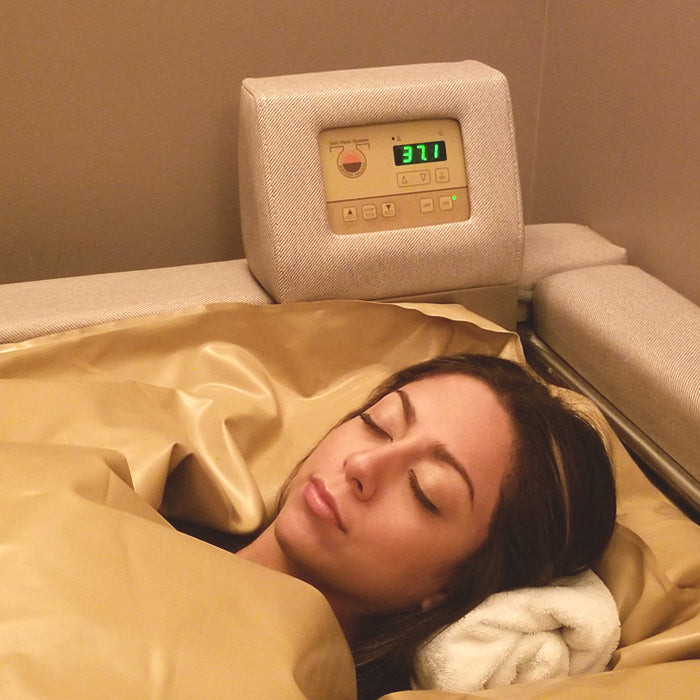 Soft Pack Float
The soft pack is the ultimate enveloping relaxation experience accompanied by our wonderful body treatments. It creates the sensation of weightlessness while surrounding you with a gentle heat. Enjoy the de-stressing effect of no pressure points on the body, thus increasing the therapeutic benefits. It is an experience like no other.
*NOTE: Seaweed and sea salts are rich in iodine and therefore are not recommended for those sensitive or allergic to iodine.
The Cucurbita masque consists of vitamins, minerals, and trace elements that combine to exfoliate, purify, and deeply nourish the skin. We will begin with a relaxing dry brushing to exfoliate followed by the application of the Cucurbita mixture. Its rich pumpkin and spice mixture is layered over the entire body. The masque is followed by an application of body butter to lock in hydration - $150.
*Includes iodine-rich products.
Egyptian Queen Cleopatra treated herself to wonderful milk baths to preserve her beauty - why not you? This intensive and luxurious treatment will begin with a Champagne and Rose body exfoliation. The rich mixture of goat milk, creams, and oils are applied and you will be cocooned in the soft pack to float away the stress, while leaving the skin soft and supple - $160.
*Includes iodine-rich products.
This treatment begins with an exfoliation followed by wrapping the body in sheets soaked in the steeped herbal mixture. The properties of the herbal tea will be absorbed into the body while relaxing in the comfort of the soft pack. You will then receive an application of body butter to lock in hydration, a truly enjoyable experience. Choose from lavender, chamomile, or rose - $145.
*Includes iodine-rich products.
This wrap detoxifies, revitalizes, and refreshes the body. Being naturally anti-inflammatory, this treatment is a wonderfully detoxifying and hydrating treatment along with the warmth and relaxation of the soft pack - $150.
A relaxing body treatment utilizing the healing powers of the sea. A blend of seaweeds rich in proteins, vitamins, and minerals helps to remineralize and revitalize the skin. Enjoy all of the benefits of our regular seaweed wrap with the added benefits of the soft pack. This treatment is highly effective for dry skin or sore muscles and is very relaxing - $150.
*Includes iodine-rich products.
Your body will be gently exfoliated with your choice of our body scrubs followed by an application of body butter which the soft pack will push deep into your skin for maximum hydration. Choose from champagne & rose, cranberry, or mango - $140.
*Includes iodine-rich products.
Experience a massage in a whole new way. Start your treatment by enjoying the soft pack which will relax and soothe joints and muscles in a pool of warmth. Your float will be followed by your choice of a Swedish or deep tissue massage for the ultimate in relaxation - $150 to $160.
When booking your service online, you will be prompted to select a "desired appointment day." After your purchase is processed, you will receive a call from our front desk to confirm the official date and time of your service(s).
We will do our very best to get you scheduled on the day of the week that you selected, but circumstances might not always allow this. We thank you in advance for your cooperation and we look forward to serving you!